From Clint's Mom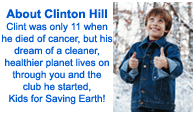 Hello from Kids for Saving Earth (KSE) and Clint's Mom. We are so happy to launch our new KSE E-Pal News. Please help us extend our KSE outreach by asking other Earth educators to join our e-mail list.
I love this photo of my son Clint! He had such enthusiasm for life and for protecting the Earth. You can harness that same enthusiasm! Through KSE's environmental education, you can teach science, social studies, math, music, art and drama. You can empower your children to lead lives always committed to protecting the Earth. Click here, KSE E-Pal News for Kids, to go to the printable student version of the "News" for each child.
One of the most important ways you can help the Earth and help KSE is to let us know what actions you have taken to protect the Earth. Click here, [email protected], to tell us your name, organization, number of kids and Earth-saving actions.  We will e-mail you a KSE Defender of the Planet Certificate Award for your school or group.
For the Earth and Its Children,
Tessa Hill, KSE President
---
Get the KSE E-Pal NEWS Kids Version!
---
KSE Advisors in Action
From Viking Elementary, Wisconsin
Advisor: Instructor, Cathy Burges
At Viking Elementary School in Holmen, Wisconsin I facilitate two KSE Clubs. The third and fourth grade club each meet monthly. We begin each meeting with the KSE Promise. Next we have the treasury report. You may be wondering how we raise money for our club. Well it is really up to the children. I encourage them to initiate the ideas and work with the support of their families. The children have raised money by taking out the garbage, raking leaves, shoveling driveways, picking up trash, keeping their rooms clean, donating tooth fairy money or allowance, donating money they find in the furniture or on the sidewalk, having bake sales and craft sales, and recycling aluminum cans. The money raised by the children is used to sponsor Earth saving projects brought forth to the club by the children. In the past we have donated money to sick children and sponsored gorillas, whales, dolphins, and koalas.
For more information visit http://www.kidsforsavingearth.org/school/burges/index.htm.
---

Protect Our Earth's Water
Children are especially at risk of being exposed to hazardous substances. Their small body size and developing systems also place them at greater risk than adults. As poisons enter our water, we face grave health concerns.
We must have stronger laws to protect our rivers, lakes and oceans from one of the most dangerous poisons, mercury. The Environmental Protection Agency (EPA) says that 630,000 children are born annually with mercury levels that put them at risk for learning disabilities and other neurological illnesses.
Ask each child to draw a poster of kids and fish swimming in lakes or oceans. Title the drawing "Help Protect Us" at the top and "Keep Mercury Out of our Water" at the bottom.
Send the drawings to:
KSE
37955 Bridge Road 
North Branch, MN 55056
We will send them to governmental leaders like President Bush and presidential candidate Sen. John Kerry.
---
Fundraising For Your Organization And The Earth
Check out these links to learn how you can earn funds for your Earth-saving activities. You'll be helping KSE do its Earth-work at the same time.
You can easily earn funds buy selling Paul Newman organic chocolate — http://www.kidsforsavingearth.org/crunchtime.html
You can buy healthier cleaning products and earn funds on the sales Green Earth Shop — http://www.restoreproducts.com/KSE_index.html
You can read for the Earth and also have a used book sale — http://www.kidsforsavingearth.org/reading/reading1.htm
You can earn funds by having a PopCan Carnival — http://www.kidsforsavingearth.org/popcans.htm


---
Check out our new Earth-saving friends then email KSE at [email protected] to let us know if you would like to obtain their Earth Day (and other days) Earth Seeds media kit — www.earthseeds.net