Go for it!
Did you know that you can tell the president, the vice president, your senator, your congressional representative, and other governmental leaders how you feel about environmental issues. Maybe you would like to explain your ideas
to your mayor or city council member. You can do it!
If you want them to know that the Earth needs
protecting — tell them!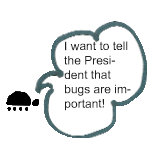 E-mail the President and Vice President
[email protected]
[email protected]
To find the e-mail addresses for the members of Congress:
Click Here!
Be sure you know your zip code!
Here's What you Say!
Make a list of the important things about Earth-saving that you want to e-mail to your governmental leaders. Tell them you are concerned about the health of the land, air, water, and all living creatures. Always be polite and don't forget to e-mail KSE a copy of your letter.