Mrs. Burges' class sent 18 letters to a state senator, asking him to help protect a wetland area in Wisconsin.    Thanks, Viking Elementary, 2nd grade class!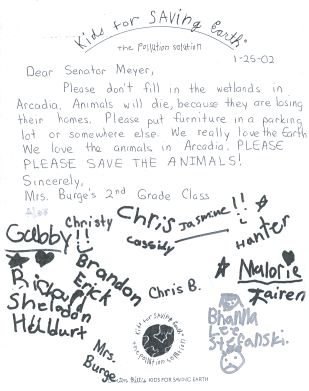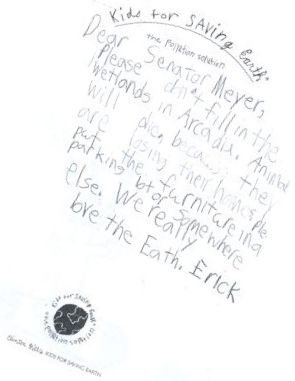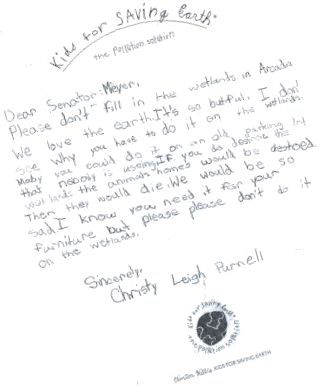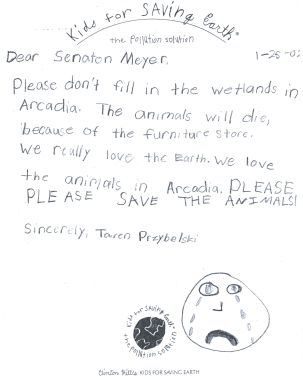 Here are a few letters from the KSE Defenders of the Planet in Holman Wisconsin!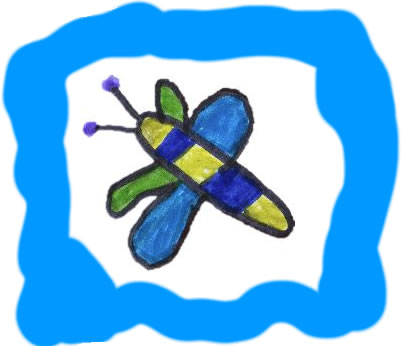 Here's a letter from students at Hastings Elementary School in Westborough, MA!
Dear Kids for Saving Earth,
We are students from Hastings Elementary School (Westborough, MA). We are in grades 1,2, and 3. We found out about Kids for Saving Earth and we had fun. We are trying to keep the earth clean, and we are telling people to help out. We are trying to tell kids to stop littering. Stop doing oil spills and drilling holes. We are going to hang up bird houses for blue birdes, and are making bird feeders.
What have you been doing? How did you start Kids for Saving Earth?
This is a great program for kids that don't know about the earth.
From Kayla, Alex, Amanda, Dominick, Ahsley, Michael, Jayna, Ellen, Ben, Taylor, Jessye, Blake
Earth Day Shopping Bags from Langley Airforce Base Youth Programs, decorated to help educate shoppers about protecting the Earth. (click for larger view!)