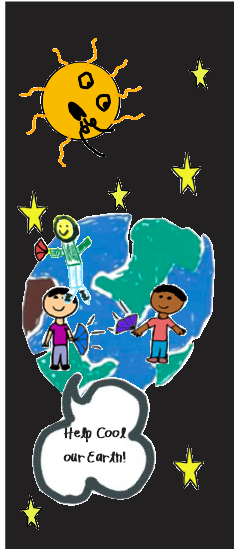 February
 is here.  Let's focus on loving Earth.  If we love it, we will protect it.  Cool our Earth is this month's theme.  First get all your students to join the 
Cool Earth Team
.  This will unite us in steps we need to take solve Earth's problem.
Here are a few suggestions to get started.   A simple way to get going is to Sign the Promise.  Then look over Have an Earth Expo in Your School.  You can do it in a big way or in a more limited way.  The best way to publicize problems we have on Earth is through events at your school or church.
A simple and fun valentine activity to do is have students fill in the Love the Earth form with hearts filled with ideas your congressperson can use to help Earth. Remind them how important it is to cool our Earth.  Ask them to join the team.
You can love Earth and keep yourself healthier by following suggestions in KSE Healthy Cleaning Week.  We must stop putting toxic chemicals into our bodies and Earth.
Keep up your great work educating children and protecting our only home Earth.