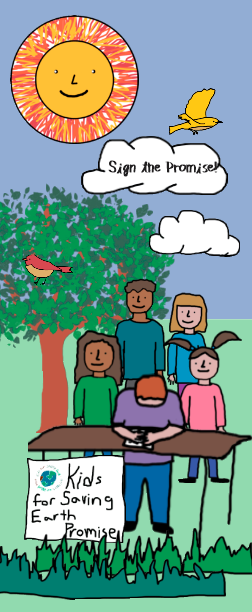 Happy February, I know all of you are very busy educating your students but I hope you will consider combining Earth protection activities with your other curriculum demands.
The calendar for February has several ways you can do that. Heart of the Arctic and the Mysterious Arctic fit well into geography. The Backyard Bird Count can fit into science and math. Love the Earth is about what kids can do to influence governmental leaders.
The easiest way you can begin educating your kids to protect Earth is with the Kids for Saving Earth Promise and Promise Song. Ask your class to sign The Promise, commit to what it says, memorize it and then learn The Promise Song. This will cover English and music while at the same time empower your children by Earth-saving.
Start simple and sign The Promise. Then check with your music teacher to see about the entire school learning to sing The Promise Song. Raffi did!
Finally, here is an exciting opportunity to check out. The Gloria Barron Prize for Young Heroes is now seeking applications for its 2019 awards! Ask your young leaders ages 8 to 18 who have made a significant positive difference to humanity and the environment to apply. Fifteen top winners each receive $10,000 to support their service work or higher education. One of your students could be one of the 25 awarded young people. Plus this award is given yearly so perhaps some of your students will be inspired for the year to come. To learn more about this wonderful program go to https://barronprize.org