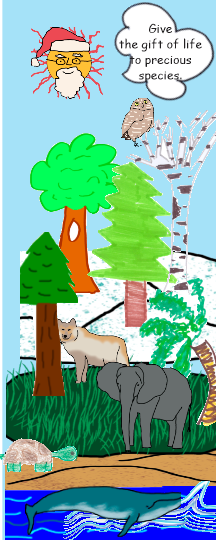 Hello Kids for Saving Earth Friends,
December for many people is a month to celebrate their religious beliefs. These celebrations often involve enjoying family, friends and gift giving. What would
be a wonderful gift for you and your students to give? 
"Peace on Earth" is a term often used in cards, decorations and songs. I believe that means we all should be working toward that dream. Keep in mind that without a healthy Earth we won't have a peaceful Earth. Fires, storms, flooding, pollution and more, are not peaceful.
This season let's think about what is one of the most important holiday gifts we can give to humanity. Protecting Earth is at the top of the list.
You can start by reading "Let the Forest Be With You" and learn about ways you can protect forests and the Precious Species living there. Learn about the US Endangered Species Act. Also check out why Real Christmas Trees are better for Earth than plastic trees.
When shopping, think about providing kids and schools with a Kids for Saving Earth membership. Be sure to support us by joining Smile.Amazon and a percentage of your purchase will go to KSE when you select Clinton Hill's Kids for Saving Earth as your charity.
Check out other options on the December calendar. Also, be sure to look over the volunteer gift coupons kids can use as holiday gifts to give to their families. Sometimes actions speak louder than money.
May Peace be with you, Tessa