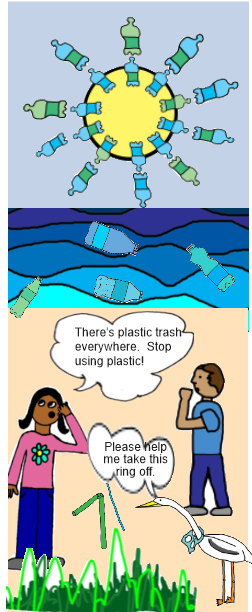 April is the big month. I call it Earth Month. It takes more than one day, Earth Day, to make a difference. I know most of you work all year to help protect our planet, but April is the month which gets the most attention to the problems Earth faces. So let's do more!  Do you have a march you can attend? Do you have an event at your school? Will you sing the Kids for Saving Earth Promise Song at your school, church, scout group or after school program? There are so many ways to get the message out and I know you can do it!
We are focusing on plastic trash this month. Earth has become the dumping ground for all sorts of plastic waste. We really don't have to let that happen. Check out ways you can stop plastic trash and why it is so important.
April is filled with activities to protect Earth. Check them out. I'm sure you will find one that works for you.
Here is a very special opportunity for you. There are two weeks left to apply for the 2018 Barron Prize! The Barron Prize celebrates inspiring young heroes ages 8 to 18 in the U.S. and Canada who have made a significant positive difference to people and our environment. Each year, 15 winners each receive a $10,000 cash award to support their service work or higher education. Application deadline is April 15. Click here to enter.
I'm counting on you to make this Earth Month special. You inspire me!
For the Earth,
Tessa Hill